It's almost 11am on a chilly Saturday morning, and a Cathar horde is about to be unleashed upon the sleepy village of Villeneuve Minervois.
Michael and I are waiting patiently and peacefully amongst the throng, although our quiet restraint is under threat from the growing excitement levels all around us. Everything is set: the officials are in place, the tables are up, and the rope barrier strains under the mass of people-pressure: in just a few moments the market will open and the crowd will be unleashed upon the magnificent and exotic "black diamond", as the local Languedoc truffle is known in these parts.
The anticipation is palpable: a coiled spring of energy and excitement waiting to be unleashed in a flurry of French tradition and flapping Euro bills. Almost teasingly, the local president of the truffle association counts down the minutes to the opening, and then finally, the shotgun is fired, the rope is dropped and the eager masses burst upon the producers and traders of this gourmet delicacy!
And here's why…
Following earlier stampedes in Moussoulens and Talairan, the humble Truffle Fair – Le Marché aux Truffes – has good reason to be the source of such excitement: truffles are selling here today for 800€ a kilo, and that's quite reasonable – they often fetch prices between 1,000 and 1,500 Euros in these parts! And within minutes they are changing hands, as our eager truffle-hunters sniff and snout out the the best deals they can get.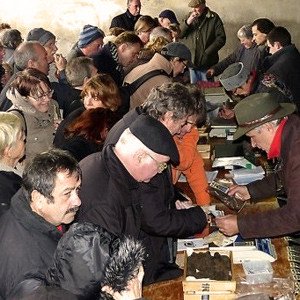 The truffle fairs run from December to February every year, and they really are a feast on the senses. If you have never seen one, it makes for a great day out, and Villeneuve Minervois does it in style. And for those who missed out on the action today, panic not: there's another one here on the 7th of Feb! Or alternatively head to the Ampélofolies Cabardès in Moussoulens one week from now (more dates and locations at the bottom of this post).
Here's a few tips if you are in the market to buy:
Make sure they are clean: this will help in ascertaining the quality.
Truffles do not win beauty contests: They are bumpy and ugly, and distorted shapes do not imply any inferiority in taste. It is harvesting at peak maturity that makes a great truffle.
Get to grips: They should be firm, smell strongly with a marbled flesh, and be black or dark brown.
The sniff test works: if there is no wonderful aroma, or it is faint, mildewy or otherwise "off," leave it. At the above prices, you should be overwhelmed with a strong, musky scent.
Best Before End: Good truffles are gathered at the height of their maturity and should be eaten within ten days of purchasing. The quality starts to deteriorate almost immediately. Ask the seller when they were acquired and when they were harvested.
Languedoc Truffle: The Down Low
Truffles are among the most highly regarded products in cuisine, especially French-Italian cookery. They are strongly flavoured, and a small amount goes a long way in adding an exotic taste to your culinary efforts. The truffle appears on the menus of all top chefs as soon as it comes into season, being long-held as a symbol of luxury and French gastronomy. The black diamond hides in the ground beneath the oak trees of the Languedoc, and only comes into season between November and March, maturing just in time for the winter markets.
The Languedoc is famous for producing a significant quantity of the "tuber melanosporum", accounting for up to 30% of total French production. The truffle has a respected place in the local community as well: As well as all the local markets, Villeneuve Minervois houses the famous Maison de la Truffe, a museum space entirely dedicated to the mystery of the truffle: its history, how it is grown, development, sales… in short, everything you need to know about truffles! At Moussoulens, as well as a visit to the truffle market, you can enjoy an excursion to a truffle field or culinary demonstrations from top chefs – all using authentic truffle recipes of course!
But Aude is not the only region whose markets sell this famous fun guy. Saint-Geniès des Mourgues in Hérault is known for other truffle activities including a cookery workshop, and even "cavage" displays (truffle hunting with a pig or dog). Uzès in Gard venerates this precious mushroom with great ceremony. For several years it has held a mushroom mass in its cathedral, where the truffles are first blessed and then sold at auction, and a truffle-banquet is offered up to bidders by Michelin-starred chefs. Arles-sur-Tech in the Pyrénées-Orientales honours the humble truffle with music and an enthroning ceremony for the Brotherhood of the "Trufa Catalana" (Catalonian Truffle).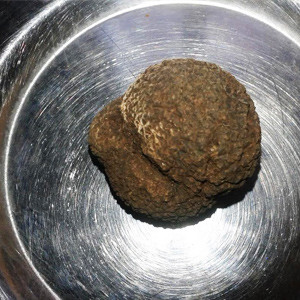 Truffles are preserved for use all year, but it is during the winter harvesting months that the truffles can be bought and used fresh and it is the best time to appreciate their flavours. End of year celebrations typically present the perfect opportunity to serve them up at tables across Cathar Country and the Languedoc. As we discovered, buying them can occasionally involve a certain sense of ritual, but it is well worth a go, we can promise you that!
Some Black Truffle Facts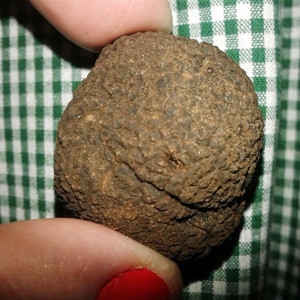 It shouldn't be confused with the dome-shaped piece of confectionery with a flavoured filling.
It is a fungi, and found mainly in the Lot, the south-east of France and the Languedoc, as well as in Italy and Spain. The black truffle is considered by some to be the Queen of truffles, with a very strong flavour and character.
Like many things, truffles are best eaten fresh. They have a taste half-life of four to five days!
They are very good for you! They're also an aphrodisiac and they taste sublime.
They are found in open woodlands and forests and grow at the foot of the green or white oak tree, just below the surface of the earth. Harvesting takes place between November and March
They can also be cultivated, and are actually the most profitable (legal) crop you can grow!
Harvesting is done using dogs (and sometimes pigs) that are specially trained to detect the smell of the truffles in the woods. Thanks to their heightened sense of smell, they can find the ripe truffles growing underground. Dogs are preferred to pigs nowadays because pigs just love to eat truffles! (they're also a little harder to control, based on recent experience!)
In total approximately 30 tonnes of black truffles are harvested each year.
The largest truffle ever found in France was a 10kg specimen found in the Alpes de Haute Provence in 1860.
Upcoming Languedoc Truffle Fairs
[accordion]
[panel title="Close to Domaine de Palatz"]
Sunday, January 25, 2015: "Ampélofolies du Cabardès" (Truffle and wine fair of Cabardès) in Moussoulens
Saturday, January 31, 2015: Languedoc Truffle market in Talairan
Saturday, February 07, 2015: Languedoc Truffle market in Villeneuve-Minervois
Sunday, March 08, 2015: "Truffles and Heritage" in Villeneuve-Minervois
Saturday, June 27, 2015: "Truffles and Terroir Roullens in Malepère" in Roullens
[/panel]
[panel title="Further Afield"]
Hérault
Sunday, January 25, 2015: "Truffle Fair" in Clermont-l'Hérault
Sunday, February 08, 2015: "Journée Paysanne" in Saint-Jean de Buèges
Sunday, February 15, 2015: "Truffle Fair" in Claret
Sunday, February 22, 2015: "Pig and Local products" in Saint-Pons de Thomières
Gard
Sunday 18 January 2015: 23rd Languedoc Truffle weekend in Uzès
Saturday 31 January & Sunday 1 February 2015: "Fête de la truffe et des produits du terroir" in Nîmes.
Lozère
Sunday, February 01, 2015: Languedoc Truffle Fair in La Canourgue
Pyrénées-Orientales
Sunday, January 25, 2015: Languedoc Truffle market in Prades
Sunday, February 01, 2015: Languedoc Truffle fair in Arles sur Tech
Sunday, February 08, 2015: Languedoc Truffle fair and farm products in Lesquerde
Sunday, February 15, 2015: Languedoc Truffle market at Château de las Fonts in Calce
[/panel]
[/accordion]
We'll be enjoying some of our newly-acquired truffle this very evening: a simple scrambled egg recipe, and garnished with fresh truffle shavings. Bon app!
Have you had any Languedoc truffle experiences you can share? Let us know below!
[title]More Information[/title]