Windy and overcast today. Perfect for getting out and about a bit! Anyone fancy a trip up the Black Mountain?
We love Occitania!
Do you? If so, fly the flag! The photo on this post was taken in the foothills of the Montagne Noire this morning, on the way to the lovely little village of Villeneuve Minervois in Cathar Country.
The tower in the background is flying the Cross of Occitania (or Languedoc Cross / Cathar cross / Toulouse cross, depending on your angle and location!). You see it flying a lot in this area, where it still carries certain associations. It is the symbol of Occitania and has been used historically as far back as 1165 as the official seal of the Counts of Toulouse in the traditional territory of the Languedoc and other adjacent regions. A derivation of it is also used in our logo of course: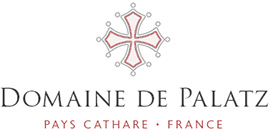 From Wikipedia:
A yellow Occitan cross on a blood-red background with the seven-armed golden star of the Felibrige makes up the flag of modern-day Occitania, but can also be found in the emblems of Midi-Pyrénées, Languedoc-Roussillon and Hautes-Alpes, as well as many other places.
https://en.wikipedia.org/wiki/Occitan_cross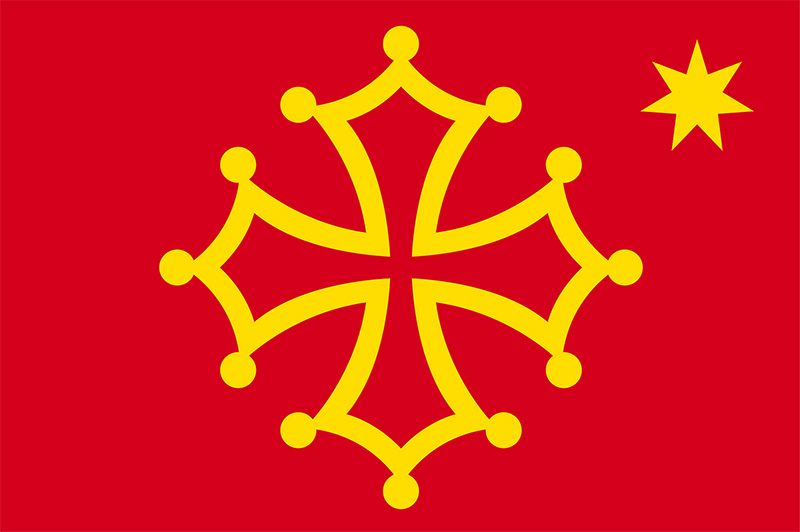 The Occitan Cross may also be used in the official flag of the succinctly-named Languedoc-Roussillon-Midi-Pyrénées Region that is being created by the territorial reforms currrently underway in France. This new super-region – which will become the largest administrative area in the country – is due to come into existence in 2016.