It's the most wonderful time of the year…
As we move into the holiday season and Winter months, it is clear to me that those of us who are fortunate to be able to spend time with our nearest and dearest have a lot to be grateful for. It is a time of endings, resolutions and renewals, and for us, a time to be with family and enjoy Christmas at home as well as out and about in the Minervois and Carcassonne.
Like so many families these days, much of ours is spread all over the globe, and although the passage of time breeds familiarity with this state of existence, I find it increasingly hard to reconcile it with our natural human desire to be together. It seems however that we must accept this as a consequence of life in an increasingly globalised world. Skype, 3G and instant messaging help people connect, but they are no substitute for being physically close to your loved ones when it matters. And this time of year is traditionally all about families: being together and enjoying food, drink, festivity and good company.
There are three generations of us living at Domaine de Palatz, and we are so happy and fortunate for the mischief, joy and laughter running through our home (well, most of the time!) and look forward to sharing Christmas and New Year together. Yet despite there being plenty of Drinkwaters around at the moment, we are always open to welcome new faces at the domaine. You may have already heard of our friendly feline companion Ginger. This once-capable hunter was formerly a fierce rodent vanquisher and guardian of the grape. However, just as the seasons pass and fade, so Ginger's fortitude is also beginning to flag, and he now mostly contents himself with sunny garden corners and rolling on to his back. We are hoping for some new blood that he can help to train up as he moves into his twilight years. And as we thought about the best method of bringing a new cat friend in to the domaine, chance would have it that another furry four-legged creature stumbled across our path!
Taking a Chance
We have always been dog lovers, and have kept working and family dogs for decades. Since our pointer passed away though we have been on the move and have been waiting for the right opportunity to keep another. well, that opportunity presented itself last month when we first visited Dog Rescue Carcasssone. The Spa is a wonderful animal rescue centre with very helpful and accommodating staff. We revisited it earlier this month and it has ultimately resulted in a new family member at Domaine de Palatz: Chance the Griffon!
We don't know a great deal about her history. Chance is a blonde Griffon, still just a pup, and already proving her intelligence and playfulness. She is boisterous and loving, and settling in very well. She seems a little wary of human adult males at the moment, but this is already lessening as she becomes more relaxed with her new family and surroundings.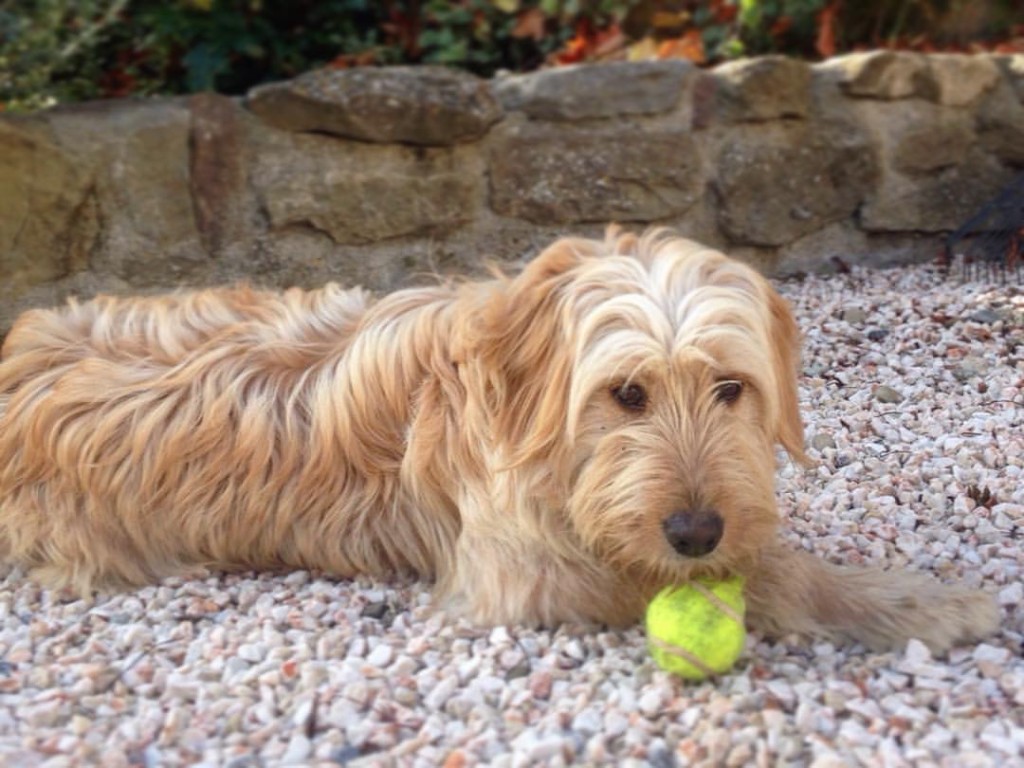 Merry Christmas!
To all our guests, friends and family members – new and old – we wish you a fun-filled, fantastic festive season. Enjoy family time, food, gifts and laughter! With best wishes for a prosperous New Year, and good health to you and those you love.
We look forward to welcoming you back to Domaine de Palatz in 2016.
The Drinkwaters