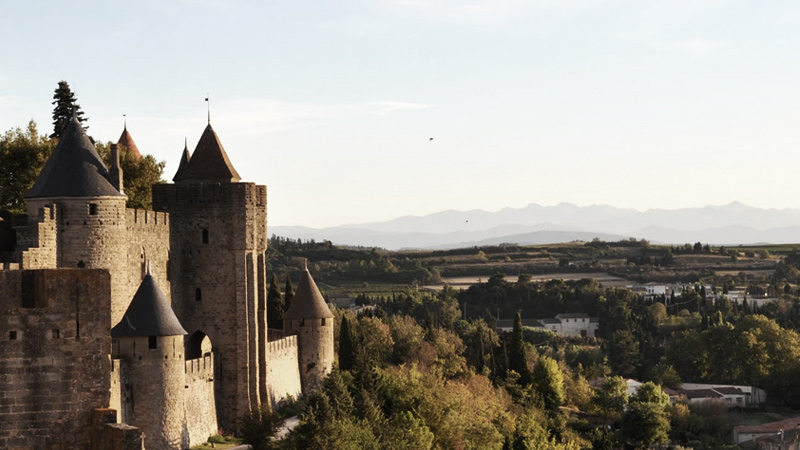 We are less than twenty minutes drive from attractions and activities to suit any taste. What follows is not an exhaustive list, but hopefully gives you a a taste of some of the things you can do in the area. We'd be happy to provide you with personalised itineraries and recommendations when you are with us. Please also check out our Facebook page for all the latest news and events.
Canal du Midi
The Canal du Midi is close by and offers walkers and cyclists many kilometres of beautiful towpath to enjoy. Classed as a UNESCO world heritage site in 1997, you really have to visit it to appreciate the impact of this massive project, started over 300 years ago. Although the great wine-carrying barges no longer ply their trade up the canal from Sete to Bordeaux, it still lives on today as a thronging river tourism destination. Boats are available for hire by the day or for longer periods.
Carcassonne
Carcassonne, another UNESCO World Heritage Site and home to the fascinating mediaeval 'La Cité', is an unmissable destination. The largest walled city in Europe is a short drive to the south-west and no visit to this area should be contemplated without exploring this wonderful attraction. Inhabited since pre-Roman times, Carcassonne was a major fortress city and exerted a powerful regional presence for many centuries. Renovated in the 19th century, today it is a perfect example of a mediaeval city. Nestled within its high stone walls are a maze of narrow streets laden with shops, restaurants and tourists, but press on through to the castle, museum and ramparts which provide a breath-taking view of the city and plains below. Summer visitors can enjoy the 'Son-et-Lumiere' show, the Festival de Carcassonne, and the 14th July Fireworks display is another must-see. The city is lit up every evening throughout the year and is a stunning sight.
Chateaux de Lastours
Up the road and around the corner we have the famous Cathar fortress of Chateaux de Lastours.  It is one of the major Cathar Country castles, with an exceptional heritage and story. It actually comprises four castles, perched proudly on a rocky outcrop overlooking the village and shady banks of the Orbiel below. Well worth a visit and the opportunity to transport yourself to another era and way of life.

Dolmens
You can almost walk to the Allée Couverte de Saint-Eugène, located in a grove of Aleppo pines, and one of the numerous "palats" that surround the Domaine. It is a large dolmen passage  – structurally, a covered stone walkway – which is believed to date back to the crossover period between the Chalcolithic and Bronze Age. At least three thousand years old, the site has been superbly restored, and is notable for being the third largest dolmen in southern France. 
Golf
Situated between the Mediterranean sea and the mountains, the challenging Carcassonne golf course, with magnificent panoramic views, is renowned for the excellent quality of its fairways and the speed of its greens. 18-hole international standard course, located just south of Carcassonne.
Horse Riding
Take a trip for a few hours, half-day or full day at one of our local riding schools. There is no better way to explore the beautiful garrigue and vineyards of the Minervois.
Water Sports
There is a lake within five minutes walk of Domaine de Palatz, and several more close to Carcassonne, which offer swimming, sunbathing and water sports to escape the Summer heat!
Vineyards and Wine Tasting
We are situated right in the heart of wine country, and a stay at Domaine de Palatz provides the perfect opportunity to explore the many up-and-coming wine regions around us. Appellations within easy access include: Corbieres, Minervois, Fitou, Malapere, and Fronton, plus the original sparkling wines of Limoux. But you needn't travel far from our doorstep, as we have plenty of opportunity for degustation all around us, and can offer full or half-day guided tours, casual or formal, to some of the most well-known and best-kept vineyards in the region.
Footpaths among the Capitelles
These simple dry stone shelters around our closest village, Laure Minervois, bear witness to an old way of life that still lingers in the region. Capitelles are small sanctuaries that were built around the vineyards and cornfields. With thick walls, they provide shelter from the elements and an enjoyable diversion for explorers and walkers. The paths extend 10 kms and are divided into four walks, which range from 45 minutes to three and a half hours for the full circuit. They start at the Avenue des Oliviers and return by the lake towards the oldest part of the village. Traversing the garrigue and pine woods through holm-oak, cypress, juniper, orchids, cystus, lavender and thyme, you will find 30 capitelles both square and round.
Hiking and biking the Montagne Noir
Cyclists and walkers of all levels are really spoilt for choice with the enormous variety of hiking terrain in the hills of the Montagne Noir. Just 15 minutes up the road, the sunny days and cooler temperatures in Spring and Autumn are ideal for exploring the vast and beautiful National Park of Haut Languedoc.