We could spend a lifetime exploring the historical, beautiful villages of Occitania. It's the little details that make these sort of adventures exciting: the antique collections dotted around; art and street displays; historic features that accentuate old buildings, and the care and attention that people put into the exterior of their homes.
Rustic shutters, doorways and cobbled streets in rural France are of course an ever-popular area of photographic interest. The villages of Cathar Country are real gems but it's worth taking the time to explore further and make a trip out of it, whether for a lazy lunch or a full day's worth of exploring.
There are a total of 150 villages across France that have been given the prestigious 'most beautiful villages of France' award. In this post we highlight a few of our favourites in the area, including two that have achieved this accolade. We hope you get the opportunity to go and visit them!
Beautiful Villages all Around Us…
We do enjoy getting out and about when the opportunity (and downtime!) arises. It's lovely to head out on the bicycle, navigating the twisting country lanes, garrigue and vines, before stopping off at a little village for lunch or an apero and watching the world go by. Our favourite? Well there's just so many to choose from! We have a few within easy reach, but across the breadth of the Languedoc we can definitely recommend:
Lagrasse
Widely recognised as one of the most beautiful villages in the entire country. It lies in the southern part of the Aude, just south of Carcassonne. Nestled in the river valley of the Orbieu, it's a delightful and lively mediaeval village beloved by artists. Well worth a stop when passing through on a castle-hunting trip, there are also some nice cafés here and a pleasant antiques market on certain days.
More info
Marseillan
A quaint fishing village and port with many seafood restaurants. Excellent seafood is available, particularly shellfish. It can get very busy over the summer months.
More info
Castelnou
Castelnou is about 20 kilometres south-west of Perpignan and not far from the Spanish border. It is a lovely little village surrounded by the rolling hills of the eastern Pyrenees. The village sits in the shadow of the castle that towers above Castelnou, around which the village developed from the 10th century onward.
More info
Saint Guilhem le Désert
It's a little remote, but such a special place, with an incredibly rich history that shines through everywhere you look. It's also an important stopping point on the Santiago de Compostela pilgrim trail. Highlights are the little cafes, the abbey, and the local kayaking.
More info
Minèrve
Minèrve, the capital of the Minervois, is an ancient fortified town, again steeped in history, with charming cobbled streets and stone houses perched over the deep gorge below. It is accessible only by a high bridge and is most famous for being the site of a Cathar siege.
More info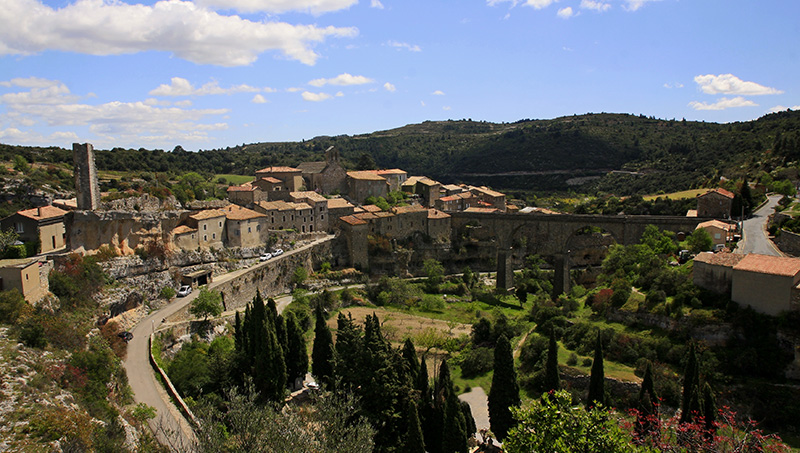 Of course, these destinations are all quite well known and do get touristy in the Summer months. For the truly bold and adventurous we can also recommend some secret, special places that are a bit more off the beaten trail, and make for a lovely little excursion or half-day trip from Palatz!